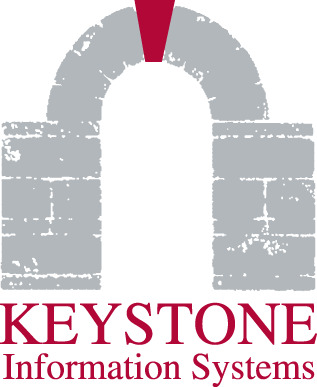 Dependable. Knowledgeable. Progressive.
Business Solutions for the Public Sector.
Since the mid-1980's, Keystone Information Systems has been dedicated to collaborating with public sector professionals to develop and support a comprehensive and functionally superior suite of business information management software for municipal and county governments and public school districts. We specialize in the needs of these states and markets:
Local Governments
New York
North Carolina
Pennsylvania
Rhode Island
Virginia
School Districts
Missouri
New Jersey
Pennsylvania
Rhode Island
Virginia
Welcome and Overview from Keystone's president
Keystone offers fully integrated, Windows-Server and Web browser-based application software covering the functions of:
Budgeting, Accounting, Purchasing/Payables, Operations, Fixed Assets and Fleet Management
Payroll, Human Resources, Benefits, Position Control, Employment Applications and Onboarding
Land Records, Real Estate Appraisal and GIS Integration (NC and VA)
Real and Personal Property Tax Billing and Collections (NC and VA)
Real Estate, Per Capita, and related Municipal and School Tax Billing and Collections (PA)
PA Act 511 (Business and Mercantile Taxes, LST, OPT, Itinerant, Amusement, EMST) Licensing and Collections
Business Licenses
Cashiering / Centralized Collections / Online Payment Portal
Community Development, Inspections and Permits
Water and Sewer Utility Billing and Collections
Originally born in the "Keystone state" of Pennsylvania, founded in 1975, Keystone has partnered with customers, professionals in public sector administration, to build enterprise-wide information management solutions, based on sound and reliable design.
Like the critically positioned keystone of the Roman arch, Keystone supports the convergence of a wide array of available technologies, with the practical daily needs of our customers' business operations. Our product design has proven enduring, providing a strong investment for our customers with straight-forward upgrade paths that preserve legacy data and business processes; and yet our products continuously evolve, making use of new advances in platforms and technologies.
We invite you to learn more about Keystone, our products, our services, and our customers, with whom we have been building sound, enduring, and reliable systems for over forty years.
Customer Testimonials
Here is what some of our customers have said about us (hover over the quote to pause it from moving to the next):
You have made the process of researching and selecting a Human Resources System very easy by answering our questions and following up when necessary.
HR Director of a 2,500 student Virginia School Division
I just want to tell you how much I appreciate the prompt and caring support all of you at Keystone have provided... Each and every person we deal with has done everything possible to get us back on track.
Finance Director of a 4,000 student Rhode Island School District
The people are as great as the product. Keystone made me a believer.
Treasurer of a Virginia County of 62,000
It is so wonderful to know that a company like yours still cares about their customers.
Finance Director of a Virginia County of 60,000
I would like to thank you and your staff for a wonderful conference. As a first time attendee of NASU, I was impressed!
Business Services Director of a 6,000 student Missoui School District
I would like to express my thanks for all of your help to our county in the conversion effort. You have shown excellent effort in finding solutions to the problems that we have encountered. I'm sure that we can count on your continued enthusiasm and help.
Tax Administrator for a North Carolina County of 53,000
Your team has been very helpful and has completed many of the tasks we laid out in the scope of work either on time or earlier than exepected.
City Manager of a Virginia City of 15,000
You all need to be complimented on the great custormer services and patience and time you give to your customers. I have worked with you for 13 years, and I could not have been trained and encouraged any better. You have always been very professional and it has been a pleasure to work with everyone.
AP Clerk of a 15,000 student Missouri School District
We find the KEMS system far superior compared to our last platform and the reporting features in the FIS system are very powerful.
Business Manager of a 1,000 student Pennsylvania School District
I am thankful for my Keystone Customer Support Group.
Finance Director of a North Carolina County of 67,000
[The] level of customer service is what makes your products stand head and shoulders above your competition.
Treasurer of a Virginia County of 42,000
It is our pleasure to work with a highly qualified staff such as yours.
HR Supervisor of a 15,000 student Missouri School District
They have always taken the time to go the extra mile for us. …we appreciate their efforts for all they have done especially durring our change to the new KEMS system.
Business Administrator of a 7,500 student New Jersey School District
It helps knowing theres a lifeline out there that I can call on.
Payroll Supervisor of a Virginia County of 62,000